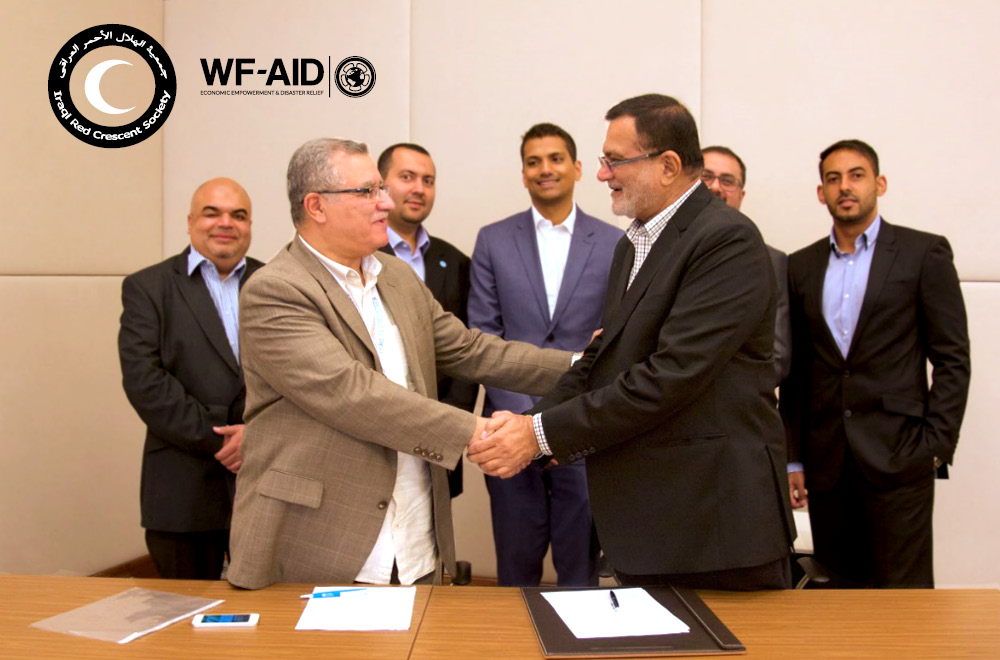 WF-Aid announces new partnership with Iraqi Red Crescent Society (IRCS).
WF-Aid is proud to announce a new partnership with the Iraqi Red Crescent Society (IRCS) to further support aid work in the Middle-East region.
The partnership with IRCS and co-ordination with the Syrian Arab Red Crescent will allow WF-AID to launch a new co-ordination office in Damascus, which aims to provide both short-term and long-term aid to internally displaced Syrian families, who have suffered from over 5 years of civil conflict.
Syria remains a difficult place to carry out aid work and many humanitarian organisations struggle to operate effectively within the country due to scrutinised regulations and auditing. The partnership with IRCS will provide access to a stable and solid support network, which will help WF-AID achieve its goals whilst being fully transparent and compliant.
This also means donors can be assured that their contributions are used effectively and can reach those who the donations are intended for.
Shan-E-Abbas Hassam, Secretary General, comments: "This is a landmark partnership for both parties who have actively chosen to channel their efforts together for the sake of humanity. With joint co-ordination and co-operation, we will no doubt raise the standard of work being delivered and reach out to more of those who desperately need help. It is a unique deal that will allow us to set up a co-ordination office within Syria – a milestone for our organisation."
Initial needs assessments and conversations highlight that many widows and orphaned children are living on the outskirts of Damascus and, having lost their husbands or fathers due to war, need immediate support so they can start rebuilding their new lives. The need is huge and will be conducting a more in-depth needs analysis on-the-ground over the coming weeks.
Most of these internally displaced Syrians haven't received healthcare services since the violence started, with some having suffered from medical conditions in silence for years – including needless loss of hearing and treatable sight loss.
Children have never been to school and without an education, they face being trapped in the poverty cycle without the knowledge and skills they need to generate an income in the future. Widows who have never worked previously are now facing the difficult job of being a mother whilst also being the sole financial provider.
WF-Aid is supporting medical assessments, along with any surgery, interventions and medicines that are needed. We are also supporting widows and orphans through the distribution of food aid, financial support, education supplies and home essentials.
You can support this programme by donating here.