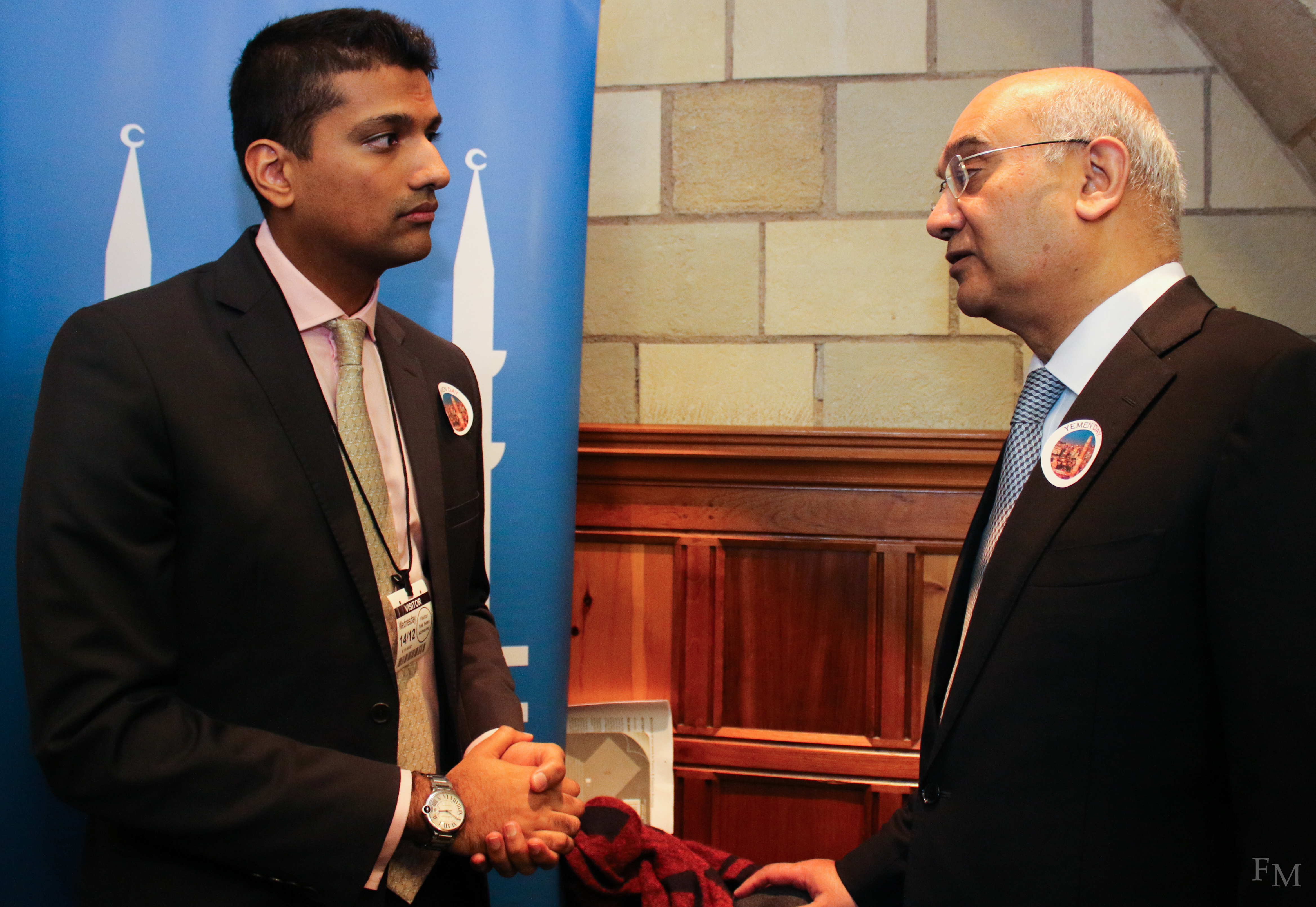 Yemen Day at the House of Commons
YEMEN DAY 2016
An Event by the All Party Parliamentary Group on Yemen in association with The World Federation of KSIMC
Background on the event
The All Party Parliamentary Group (APPG) on Yemen invited The World Federation to co-organise Yemen Day.  This event took place on the 14th of December 2016 at the House of Commons.
The All Party Parliamentary Group for Yemen is chaired by the Rt. Hon. Keith Vaz MP, with Rt. Hon. Edward Argar, Rt. Hon. Harry Hapham and Rt. Hon. Mrs Flick Drummond as the other members. The purpose of the APPG is to promote a greater understanding of the country of Yemen and encourage Anglo-Yemeni relations.
The World Federation was invited by the APPG for Yemen in recognition of the excellent work it has carried out in Yemen, most notably the rescue operation of just under 500 individuals and the on-going facilitation of their onward re-settlement to Africa, Pakistan, India, Iraq and other countries.
The Event
The event was attended by a number of political, diplomatic and humanitarian leaders including a plethora of MPs, the Speaker of the House of Commons (Rt. Hon. John Bercow), Foreign Office Minister (Tobias Ellwood MP), Minister for The Department of International Development (Rt. Hon. Rory Stewart); as well as a host of ambassadors and diplomats from many nations serving in London (including Yemen, Saudi Arabia, Morocco, Oman, Algeria). From the humanitarian front the event was attended by a number of leading NGOs including Oxfam, Islamic Relief, Care International, British Red Cross, Medicines Sans Frontier, and the World Food Programme.
The World Federation had also invited all UK Jamaat presidents to the event in collaboration with The Council of European Jamaats (CoEJ) as well as several volunteers within our community as well as within The World Federation. Alhamdulillah we had strong representation from several of those that were invited.
Addresses by various dignitaries
The event began with a televised address from the UN Undersecretary General for Humanitarian Affairs and Emergency Relief Co-ordinator who provided an array of statistics which aptly depicted the crisis and its affect on Yemeni Society. He called for an immediate cessation of violence and the re-application of the Rule of Law. His full address can be seen here: https://youtu.be/Q6EMhTELooM and https://youtu.be/CTGO3U6Obow. 
Rt. Hon. Keith Vaz who formally thanked The World Federation for co-hosting the event also gave time to various other dignitaries who spoke about the importance of the end of hostilities and the opening up of humanitarian pathways. Some wonderful speeches were given by Rt. Hon. Tobias Ellwood (Foreign Office Minister), Rt. Hon. John Bercow (Speaker of the House of Commons), Rt. Hon. Rory Steward (Minister for International Development) and Rt. Hon. Flick Drummond. The links for these speeches can be found here:
https://www.youtube.com/watch?v=YBa5Aq8LKt4&feature=youtu.be
https://www.youtube.com/watch?v=vo-JrvTGbsM&feature=youtu.be
https://www.youtube.com/watch?v=2COZ4p69Mow&feature=youtu.be
https://www.youtube.com/watch?v=h6IYnRcLK3Y&feature=youtu.be
The World Federation's Hon. Trustee and Head of WF AID, Al Haj Shan E Abbas Hassam was formally introduced to the podium to sum up the event.  He emotionally emphasised on how real the conflict is for those who are suffering. He gave real life examples of those who he had met during his visit to Djibouti. He thanked Rt. Hon. Keith Vaz MP and the APPG on Yemen for the invitation and the opportunity to assist in hosting this important event. His talk can be viewed on: https://www.youtube.com/watch?v=BDOpCvrCgLM&feature=youtu.be 
For further information please contact secretariat@world-federation.org