Kenya Emergency Drought Response 2021
WF-AID would like to extend our deepest gratitude to The Mohsin & Fauzia Jaffer Foundation in USA for their generous donation of USD $128,000. Your charitable donation provided essential relief in the form of Food Baskets to 22,888 Beneficiaries/ 4,671 Families across 46 villages, at $25.68 per food pack. This includes an additional special distribution which was delivered to 172 households of teachers of the Chakama schools.

The table above provides a summary of the project's financial breakdown. This is further detailed below.
This report provides qualitative and quantitative insight into the way in which your altruistic donation has provided life sustaining and vital emergency relief to the locals of Chakama, Kenya who have been suffering a fatal drought.
On 8th September 2021, President Uhuru Kenyatta declared the drought a national disaster. Chakama location is within the worst affected area in Kilifi County which is among the 12 counties hardest hit by the drought.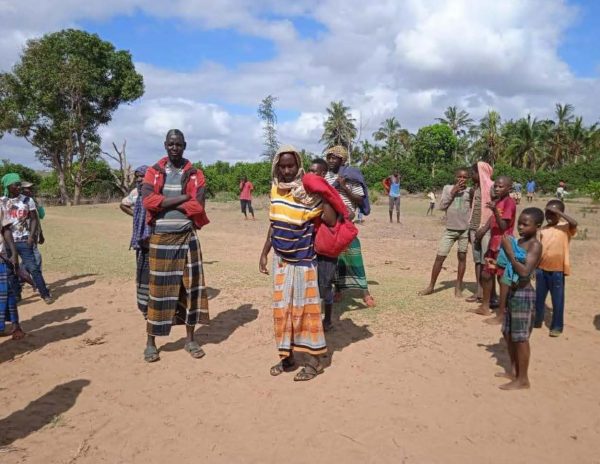 In the beginning of the year 2021, Kenya was declared to be in economic recession. Badly hit by the global COVID-19 pandemic and with the rising political temperatures, the country's economy has sunk for the first time in close to 20 years. Poverty and food insecurity has continued to rise to alarmingly high rates and rural needy communities are the worst affected.
The locals have not experienced rain this year too and farm produce has been minimal. The worst affected are subsistence farmers who are totally dependent on rains and who have no other means of livelihood.
We successfully distributed 4,671 food packs across Chakama, located within Kilifi County, one of the poorest of the 47 counties in Kenya. With over 4000 households, the communities live under very harsh conditions, and lack access to essential needs including clean water, food, healthcare, electricity, and sanitation. The residents of the villages are predominantly subsistence farmers. With the harsh environmental and climatic conditions, their crops have failed leaving them severely food insecure.
Furthermore, the little they are able to grow is commonly destroyed by wild animals, pests, drought and floods. They often turn to wild fruits and roots for survival when they do not have food.
However, by providing these 4,671 households (average of 5 persons per household) with food packs containing vital food essentials, such as beans, flour, salt, and safe drinking water, they are able to feed their hunger for a minimum of 2 weeks.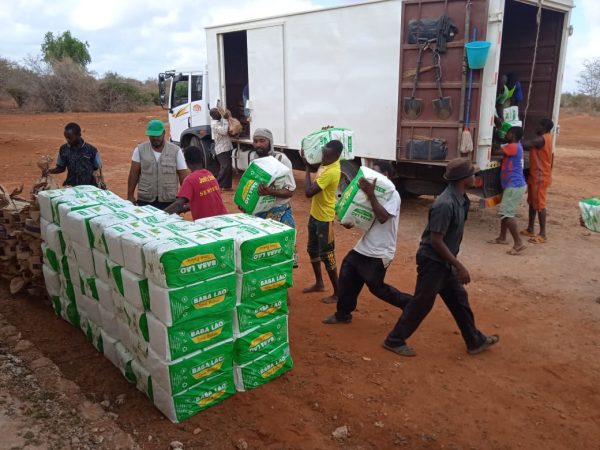 The beneficiaries were identified by our local grounds team in Chakama, ensuring our food packs were distributed to those most affected by the drought. A key aim in our distribution was to provide food aid to teachers, so to ensure the local children are able to continue receiving their education despite the harsh living conditions caused by the drought. We successfully provided 172 food packs to the households of 172 teachers respectively.
These food packs relieve these destitute beneficiaries from an otherwise desperate search for food over an estimated minimum of 2 weeks.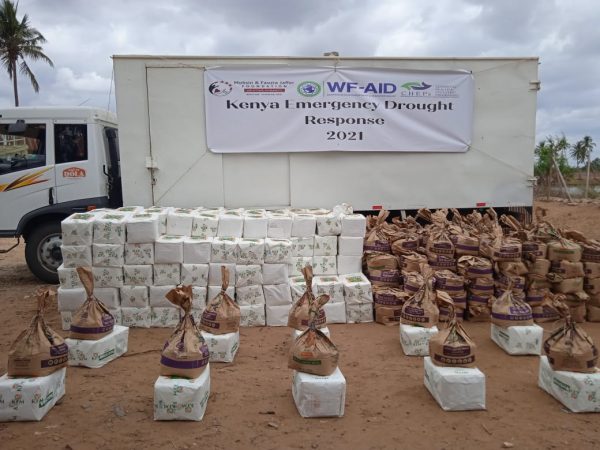 Out of these 22,888 beneficiaries, 11,901 were female, 440 of whom were widows. 10,987 beneficiaries were male, and 266 individuals had a disability. A focus of our distribution was also to provide food aid to starving orphans. We successfully provided 880 destitute orphans with food packs to relieve them of the thirst and hunger experienced as a result of the drought.

Please note that we reduced the budget per household to USD $25.68 as opposed USD $60, as earlier proposed. This was done in order to reach out to more than twice as many households, maximizing the impact of your donation to reach as many beneficiaries as possible. Though we had proposed to reach 2000 households, we instead managed to reach out to 4,671 households.
The table below provides a breakdown of the project's expenditure.

*WF-AID are holding the surplus funds on behalf of MFJ to be used as instructed towards future needs.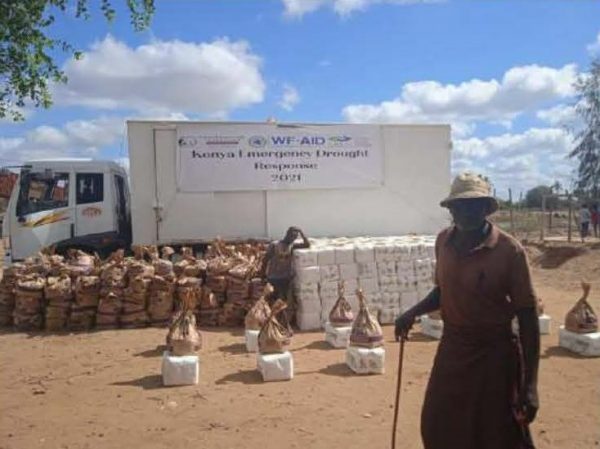 The table above provides a breakdown of the cost of food pack per unit, the quantity and the overall cost of all 4,671 food packs.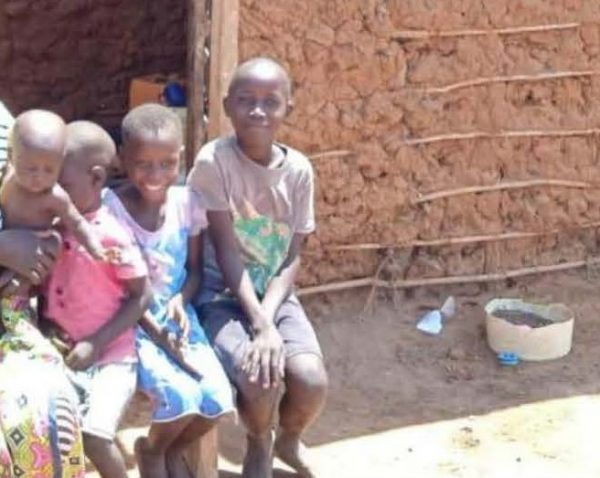 This is D.C, a 30 year-old mother of 4 who lives in Kwa-chuye village, in the Chakama county. He husband is unemployed and relies on menial jobs to sustain the family. The jobs have been difficult to come by due to the desperate economic conditions around Chakama of late. She is a subsistence farmer, but her crops have all failed due to the ongoing drought.
Before our food aid, the family was struggling to source a single meal a day, often going completely starved. D.C reports that her right hand recently sustained a fracture which still causes her pain. She is therefore forced to remain at home looking after her children while her husband searches for sustenance.
The family was grateful when our grounds team delivered the food pack to their home. This food aid will sustain the family for 2 weeks, allowing them to work and save their disposable income to source food once the food aid runs out.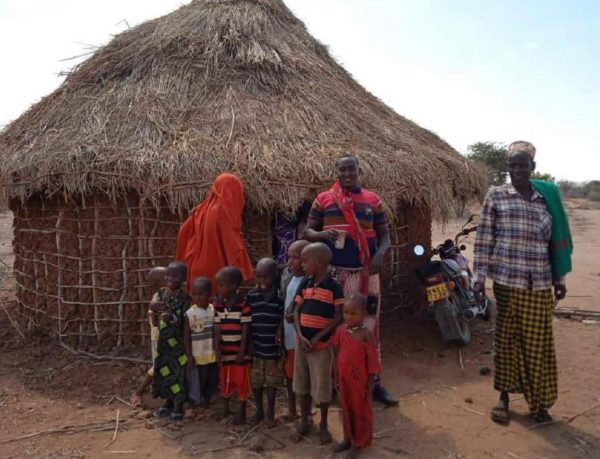 M.K is a 50 year-old father of 16 children. He has lived all his life as a pastoralist, a trade he learnt from his father. He narrated that the trade depends a lot on the climate for grazing, mating, and even selling of animals at the correct seasons.
Due to the drought, his community have progressively lost their livestock. They travel far in search of pasture, and along the way their animals drop dead, one after the other, due to starvation. He attempted to even take his animals to a major town (150km away) to sell them. Several died along the way and on arrival he could not sell them as they were too thin, forcing him to return back home. More animals died on the way back.
He is grateful for the food relief he received, which came at a time when he and his family were facing severe hunger.
WF-AID is grateful to The Mohsin & Fauzia Jaffer Foundation in USA for their generous donation of USD $128,000 which provided 22,888 Beneficiaries with life-saving food relief. Your generous donation provided a total of 4,671 food packs, at approximately USD $25.68 each, to 4,671 destitute households during a time of starvation and thirst as a result of the ongoing drought in Kenya.