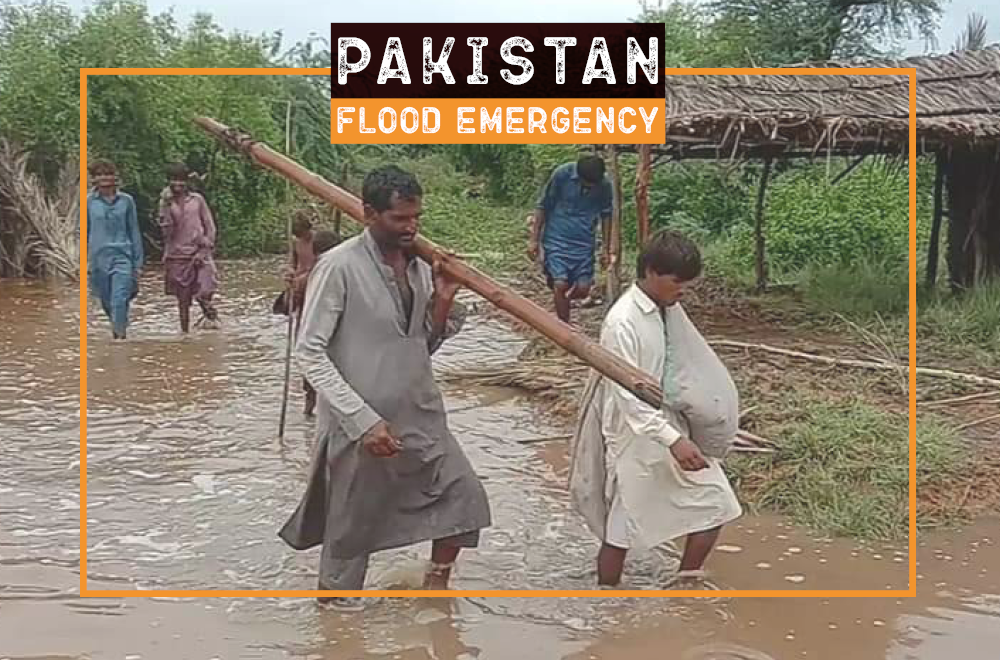 Pakistan Flood Emergency
RELIEF UPDATE: 12th September 2022
Help The Innocent Victims of Pakistan!
WF-AID is continuing to assist affected communities as the Pakistan Flood Emergency relief effort continues and more rainfall is still predicted.
Continue making generous donations to the flood victims' families in need of emergency aid.
RELIEF UPDATE: 9th September 2022
With the ongoing Pakistan Flood Emergency relief, WF-AID continues to reach out to more communities affected.
An all females tent village has been setup in a village in the district of Khairpur.
WF-AID is also working with ground partners to reach out to communities who have been cut off from the normal transport route due to the severity of the floods.
Continue donating generously to the affected families of the floods towards the Emergency Relief.
UPDATE: 8th September 2022
WF-AID is working tirelessly in parts of Balochistan, Sindh and Punjab and distribution of relief packages is well-underway.
However, the devastation of those affected by the floods is unimaginable.
WF requests all to donate generously to our Emergency Appeal. Now, more than ever, the 33 million + families need your help.
Read updates (in English, French and Gujarati) on our ongoing relief work in Pakistan on the link below:
RELIEF UPDATE: 6th September 2022
WF-AID and their ground partners are working relentlessly to distribute food packs, hot meals, medicine and tents to the affected communities in Pakistan.
With a rise in mosquitoes in the current weather conditions, WF-AID distributed nets to families and children to protect them against Malaria and Dengue. Free Medical Camps have been set up assisting communities.
Every donation made to our Emergency Appeal, means more families can be reached. Please Donate Generously Today!
UPDATE: 5th September 2022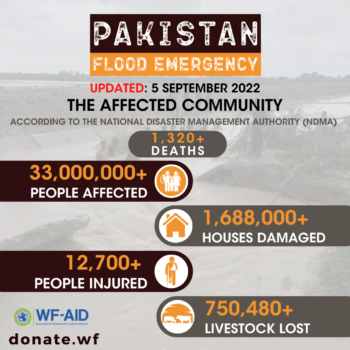 UPDATE: 4th September 2022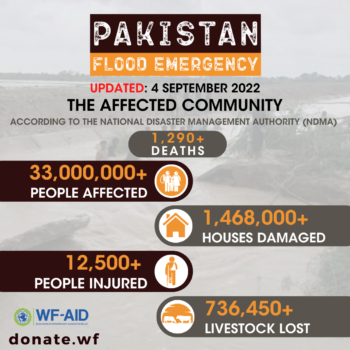 RELIEF UPDATE: 3rd September 2022
Communities in Pakistan need YOU!
WF-AID is reaching out to the communities with Food Packs, Hot Meals, Tents and Medical camps. As help arrives in Pakistan, the cry from the people in devastation and misery is apparent.
We cannot turn our backs to the duty we have towards our brothers and sisters. Donate today to our Emergency Appeal to help the affected people in Pakistan during these trying times.
RELIEF UPDATE: 2nd September 2022
As the floods came in, many parts of Pakistan have lost a lot of their infrastructure, including clinics. Many injured, sick have no where to turn to for medical assistance.
Thanks to your generous donations, WF-AID set up Medical Camps in villages in Badin to assist families with medical care they require during these tiring times.
Food Packs, Cooked Food and Tents were also distributed to affected families.
UPDATE: 1st September 2022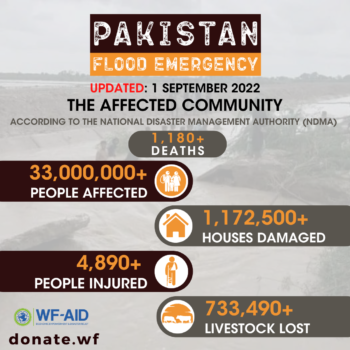 RELIEF UPDATE: 30th August 2022
With your generous donations, WF-AID has commenced distribution of Food packs, Hot Meals & Tents in villages of Khairpur, Dasht area of Baluchistan, Mianwali & Rajanpur, Dera Ismail Khan Districts and villages of Chacharr, Bulwarr, Rojhan, Sargani & Rajanpur.
Please continue to Donate towards our Emergency Appeal to help reach out to more affected families.
The World Federation issued a statement regarding the Pakistan Flood Emergency. Click below to read the statement in English, French and Urdu.


Thousands of people, from infants to elderly, have lost the roof over their heads and, in some cases, their loved ones – all within minutes of torrential rain and flash flooding like never before.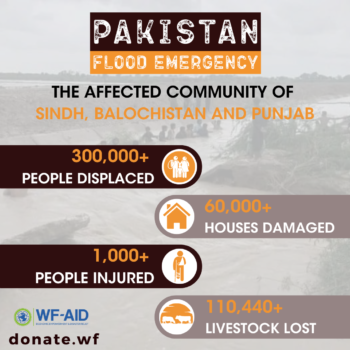 The severe and adverse rainfall affects many regions across Punjab, Sindh, and Balochistan, causing dire distress to the impoverished. Those who were already suffering from a lack of food and safety are now rendered completely without shelter, thrown into the cold arms of homelessness. It is estimated that over 60,000 homes have been flooded, leaving over 300,000 people displaced.
Pakistan is ranked eighth among the most vulnerable countries to climate crises according to the Climate Change Risk Index 2021. This crisis has not only resulted in families living unsheltered under the open sky, but also drenched in water that is nearly waist high. This crisis has cost lives and it continues to do so. The flooding has caused at least 580 deaths, including 224 innocent young children and 114 vulnerable women. Over 1,000 people have been injured and this figure increases by the hour. In Balochistan alone, over 200 deaths have incurred, 58 of whom were young children.
While some can save themselves and their families, many unfortunately witness the deaths of their loved ones first hand. Naseebullah, a recent retiree, told Al Jazeera; "My brother lived next door and he had some relative's children also staying with him. As soon as we managed to leave the house, the flood came crashing down and destroyed my house as well as my brother's, taking him and the people inside away".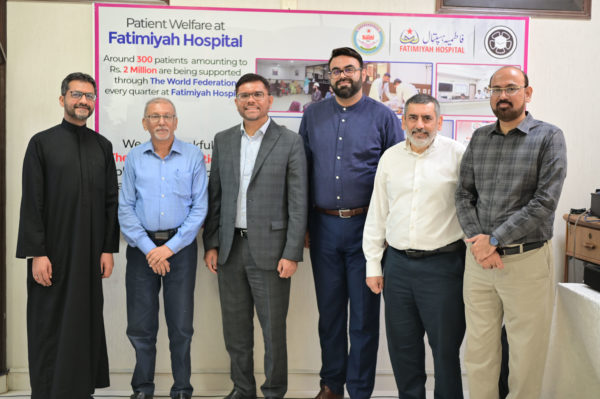 L-R – Shaykh Nadir Jaffer – Head of External Tableegh, Alhaj Abul Hasan Gokul –
President of KPSIAJ (The Khoja (PIRHAI) Shia Isna Asheri Jamaat), Alhaj Safder Jaffer – WF President,
Alhaj Arifali Hirji – WF Secretary General, Dr Munir Datoo – WF Vice President,
Alhaj Muhammad Mustafa Hemani – WF Lead – Pakistan
A delegation from The WF, comprising of Office Bearer's, Department Managers, and Councillors are currently on the ground in Pakistan assessing the situation.  They are visiting Pakistan on a mission to assess the needs of the communities, and to thereafter deliver solutions especially for education and economic upliftment.
WF Secretary General, Alhaj Arifali Hirji, appeals directly from Pakistan
towards the Pakistan Flood Emergency
The plight of those who manage to survive isn't any more promising. More than 110,000 livestock has been lost in this disaster, depriving many of their only source of income. Lack of food, nutrition and hygiene undoubtedly will increase the risk and spread of water-borne diseases such as Typhoid and Cholera. The risk for survival is only increasing.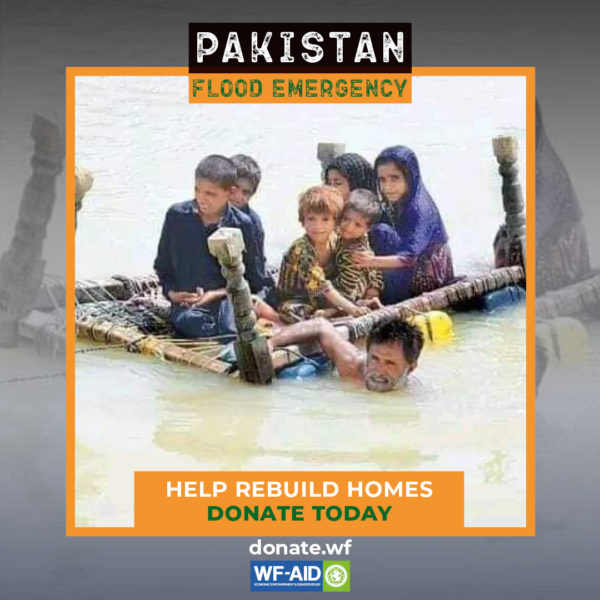 The local authorities are doing what they can to assist those who have been directly impacted by this flood. However, it is not nearly enough. We cannot turn our backs to the duty we have towards our brothers and sisters. Now more than ever, these 300,000+ displaced families need our help.