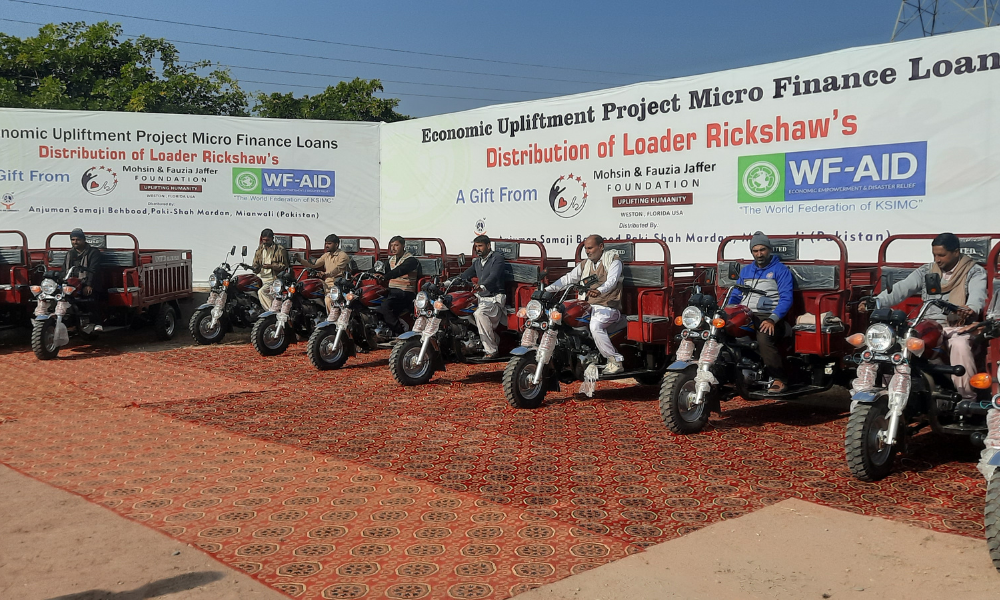 MFJ – Income Generation Scheme – Loader Rickshaws
In February 2022, we were able to purchase 6 loader rickshaws as part of a Microfinance project to erase poverty and uplift humanity. After the success of this scheme, in October 2022 we were able to expand this specifically to provide more loader rickshaws to reach more beneficiaries. The rickshaw is a 150cc loader rickshaw which can be used for multiple purposes.
This scheme aims to give those who are struggling financially a livelihood of their own, thereby empowering them. ASB focus on very remote and deprived areas of Pakistan where the Shi'a population is dense; the scheme enables beneficiaries to grow and start a new life.
Each beneficiary is provided with a brand new rickshaw at the cost of $1,430. This is paid back in monthly instalments interest free which makes re-payments manageable and allows the funds to be re-used to purchase another rickshaw within a matter of months to help yet another family.
In this tranche, WF-AID sent $16,500 to purchase 10 new loader rickshaws ASB was able to purchase 11 loader rickshaws with the funds for 10 for the prices quoted earlier. They went an extra mile to get the rickshaws from the company instead and they managed to purchase 11 and now 11 other families have a source of income.
WHAT DIFFERENCE HAS YOUR SUPPORT MADE?
According to market rate loader rickshaws price was higher than expected. To stay within the budget and help more people we purchased loaders directly from the company and got special discount. We managed to purchase 11 loaders instead of 10 that was the initial figure. Now we have been able to provide 11 loaders and a source of income to 11 different families.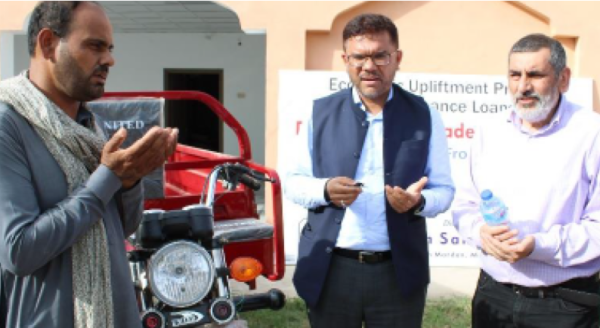 The WF President – Alhaj Safder Jaffer and Vice President – Dr Munir Datoo
praying for the success of the beneficiary, February 2022.
Names have been changed to protect beneficiary dignity.
Shaban Hussain is one of our beneficiaries who has benefited from this scheme:
My name is Shaban Hussain, I am the sole earner of a family of 6 people. I live with my parents and a younger sister. I have a child and I am also a kidney patient. I am unable to work in difficult environments. I was working as Loader Rickshaw driver from last 5 years with a party in my village. My monthly earnings are divided between myself and the owner of the rickshaw. Due to rising inflation, I was in big trouble to run my family expenses smoothly. Thanks to Almighty Allah, today is a new turn in my life, I have been given a new Loader Rickshaw from The WF-AID and Mohsin & Fauzia Jaffer Foundation organization. Now I feel satisfied. With the income I make, I will be able to easily pay back its monthly instalments and can run my home. I want to let you know that I also serve my ward mosque voluntarily, I think Allah Kareem has given me this great reward for the service I provide there. My life has changed and I am very happy. I pray all the time for the brothers and sisters who have helped me and my family.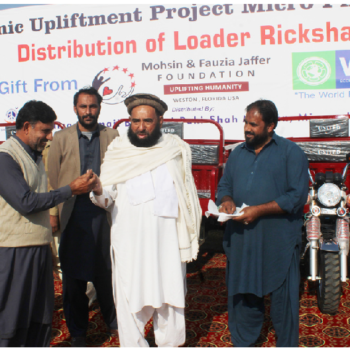 Handing over the loader rickshaw key to a beneficiary.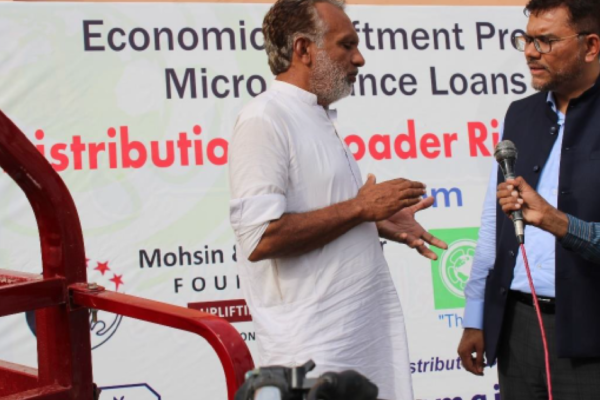 The WF President – Alhaj Safder Jaffer, in conversation with one of the beneficiaries in February 2022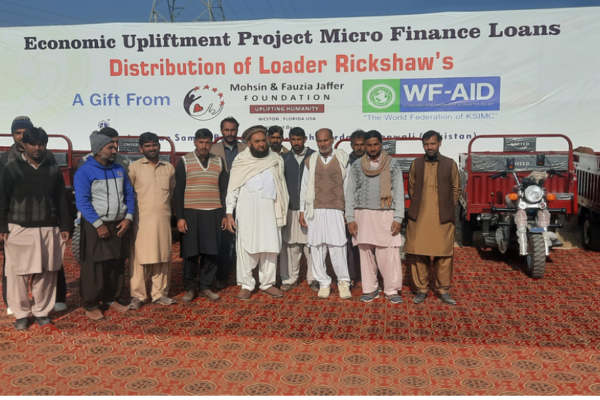 The second set of beneficiaries who benefitted from the scheme.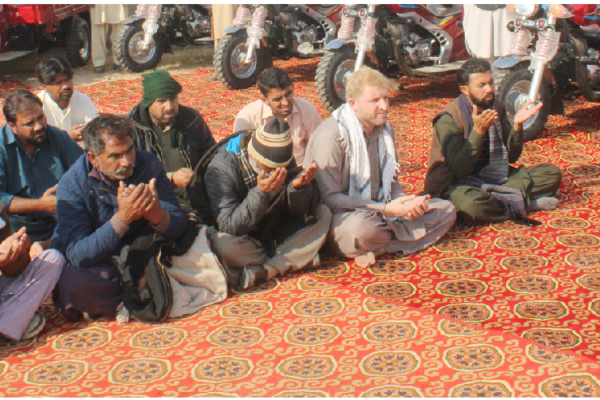 Beneficiaries praying for WF-AID and the donors who allowed them this life changing opportunity.
HOW YOU HELPED PEOPLE LIKE SHABAN AND WILL CONTINUE TO DO SO WITH YOUR GENEROUS DONATIONS

*Our partner on the groundreceived $16,500 from WF-AID, they have spent a total of $15,856.50. The remaining amount $643.50 is being carried forward for the next purchase of loader rickshaws.
*$121 was spent on branding and operational expenses.
*The ground partner was able to purchase 11 loader rickshaws instead of 10 at a discounted price.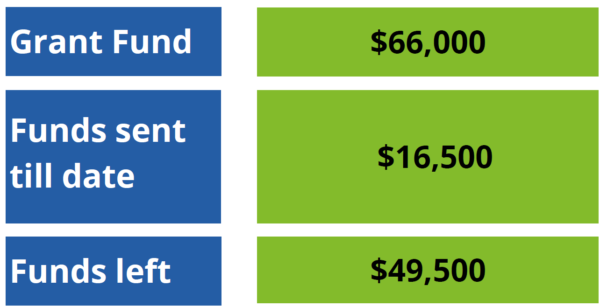 Imam Ja'far al-Sadiq (a) says:
"An act of charity given openly prevents seventy types of mishaps, and a secretly given charity cools the anger of our Lord Allah (SWT)"
Bihar al-Anwar v93, p 130r