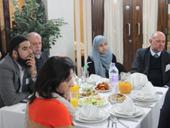 Eid Dinner with the Charity Commission
The Muslim Charities Forum (MCF) and the Charity Commission jointly hosted an Eid dinner held at the Muslim Cultural heritage Centre on Thursday 16th October 2014.
Present at the dinner were representatives from a number of Muslim charities, including the World Federation of KSIMC, Islamic Relief and Muslim Aid.
Organisations such as BOND (a UK membership body for organisations working in international development), The Association of Chief Executives of Voluntary Organisations (ACEVO) and The National Council for Voluntary Organisations (NCVO).
The World Federation of KSIMC was represented by sister Anisa Kanji, the lead for the International Relief & Economic Development Department and sister Sabira Kanji, the Head of Operations.
Those speaking at the event included William Shawcross, Charity Commission; Dr Hany El-Banna, Muslim Charities Forum and Ben Jackson, Bond.
Sister Sabira Kanji comments "The Eid dinner was a great opportunity to connect with other Muslim NGOs and learn and share from them". It was very insightful and it was a great opportunity for Muslim NGOs to speak with and hear from the Charity Commission directly about their experiences, concerns and recommendations in the charity sector.
Sister Anisa Kanji comments 'The event was a great opportunity to network and hear from others in the sector.  We also used this as a chance to share the work that The World Federation of KSIMC are doing and how we can work closely with other charities to provide further assistance to those in need.'